Starlink has captured the imagination of Nigerians and people around the world by promising to bridge the digital divide, particularly in remote and underserved areas. It holds the potential to offer high-speed internet access, even in regions where traditional broadband infrastructure struggles to reach. Yet, like any technological innovation, Starlink isn't without its share of challenges.
In this article, we'll delve into the common Starlink problems faced by users in Nigeria and provide practical solutions to help you navigate these challenges effectively. Whether you're a rural resident seeking a lifeline to the digital world or an urban dweller exploring alternative internet options, understanding and addressing these issues can significantly enhance your Starlink experience.
So, if you've embarked on the Starlink journey or are considering joining the Starlink user community in Nigeria, read on to discover how to overcome common obstacles and harness the full potential of this groundbreaking satellite internet service.
Problem 1: Residential Plan Unavailable
Issue
This usually happens as a result of buying the device from a reseller or inputting the wrong address while ordering from Starlink. The residential plan will only work if the device is being set up at the location that was selected while placing the order.
Those who face this issue have to pay extra for the Roam Plan, which allows the device to be used in any location within the country.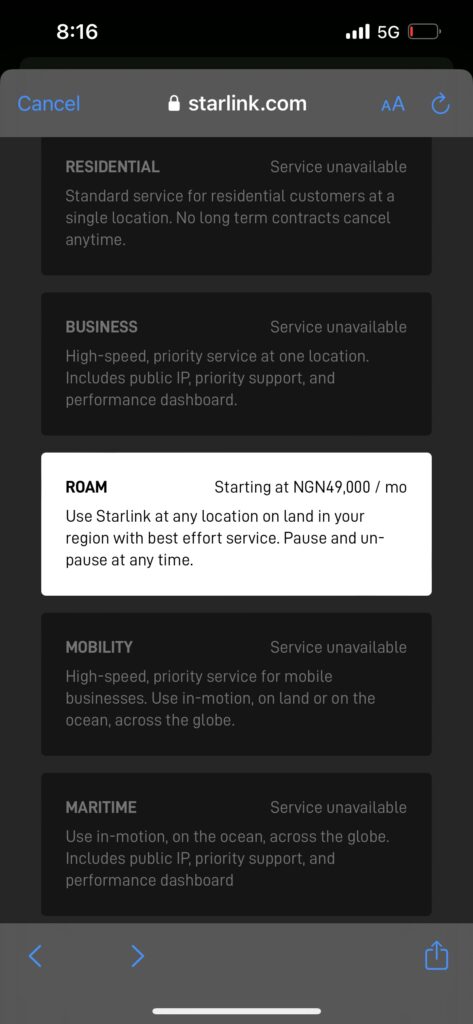 Solution
Talk To Support: Truth be told, Starlink's customer support is currently not the best in Nigeria as at the time of publishing this guide, but they do respond eventually. Visit https://support.starlink.com/ and create a support ticket stating how you would like to switch to the residential plan.
Continue with the Roam plan and switch later: Some users have reported that they could switch to the Residential plan after picking the Roam plan at the initial set-up phase.
Problem 2: Bad or slow international speeds
Issue
This could be because the satellite dish doesn't have a clear view of the sky to connect with the satellites or weather conditions, such as heavy rain, or thunderstorms, which can temporarily interrupt the Starlink connection.
Solution
Choose the Right Location: Place the Starlink dish in a location with an unobstructed view of the sky.
Trim or Remove Obstructions: If possible, trim tree branches or relocate objects that obstruct the dish's view.
Use a Pole Mount: Consider using a pole mount to elevate the dish above potential obstructions.
Be Patient: Starlink's phased-array antenna technology may automatically adjust to mitigate weather-related issues.