Smart cities are becoming a global trend as countries strive to make their cities more sustainable, efficient, and liveable. This article will explain smart cities and their importance, and how they can benefit Africa.  
What are smart cities?
Smart cities are urban areas that use digital technology and data to make people's lives better. In these cities, modern technology improves residents' quality of life and energy, transportation, and waste management.
The technologies used in smart cities can range from simple sensors that monitor traffic and air quality to complex systems that use artificial intelligence and machine learning to optimize urban services such as transportation and energy. The technologies also help improve urban services and reduce resource consumption.
The goal of a smart city is to create a more livable, sustainable, and efficient urban environment.
Importance of smart cities
Increased efficiency. Increased efficiency is one of the most important advantages of smart cities. Cities can optimize the use of resources like energy and water by using technology like sensors and real-time data analytics. This can result in cost savings and waste reduction, which can then be redirected to other important areas such as healthcare and education. Smart grids, for example, can help to ensure that electricity is distributed more efficiently, reducing the epileptic power supply that Africa is known for. It will also save money for both residents and businesses.
Improved transportation system. The potential for improved transportation systems is another important aspect of smart cities. Smart traffic management systems can help optimize traffic flow, which can reduce traffic jams and make commuting better for everyone. Smart transportation systems can also improve safety by monitoring traffic in real-time and alerting drivers in the event of an accident or other emergency.
Improved public safety. Smart cities can help improve public safety. Using technology like video surveillance, smart cities can keep an eye on public spaces and act quickly when something goes wrong. Smart cities can also use data analytics to find high-risk areas and put resources there. This lowers crime rates and makes cities safer for everyone.
Increase economic development. Increased economic development is another significant benefit of smart cities. Smart cities can help create jobs and boost the economy by attracting new businesses and talent. This can lead to increased investment and improved infrastructure, which can further improve residents' quality of life. 
Smart cities and their importance to Africa
With Africa's rapid urbanisation and its young and fast-growing population, the importance of smart cities in Africa cannot be overstated. Smart cities might just be the solution to some of the most pressing issues facing the continent.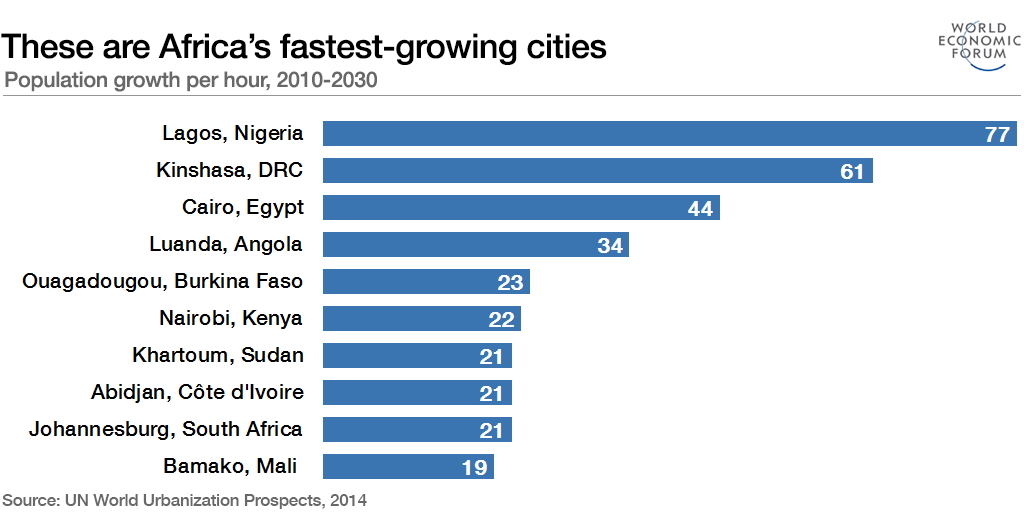 The following are some of the ways smart cities will benefit Africa:
Help manage the challenges of the continent's rapid urbanisation
More and more people are moving from rural areas to cities in search of economic opportunities. According to a 2018 World Economic Forum article, Africa's 1.1 billion citizens will likely double by 2050, with cities, particularly slums, accounting for more than 80% of that increase. This presents African cities with both challenges and opportunities. Smart city projects can help these cities deal with the problems that come with growing quickly and improve the quality of life for their residents. The migration doesn't have to lead to more slums on the continent.
Help create sustainable and environmentally friendly cities
African cities face a variety of environmental challenges, including air pollution, waste management, and water scarcity. Smart city technologies can help address these issues by monitoring air quality, optimizing waste management systems, and improving water distribution networks. This can aid in the development of more sustainable and environmentally friendly cities, as well as changing the world's perception of Africa as a hungry and drought-stricken continent.
Help improve the efficiency of urban services
Smart cities have the potential to improve the efficiency of urban services like transportation, energy, and public safety. Many African cities suffer from traffic congestion, which smart transportation systems can help to alleviate. Smart transportation systems, for example, can help reduce traffic congestion and improve public transportation by providing drivers with real-time traffic information. Smart energy systems can reduce energy consumption while also optimizing the use of renewable energy sources. Smart public safety systems can also reduce crime and improve emergency response times.
Help drive economic growth and create opportunities
As African startups' funding surges, defying global economic trend, smart cities will further spur economic growth and create new job opportunities. Because Africa has the world's youngest population, its citizens are at risk of being lured abroad for work. If its citizens are to consider the continent their home, it must provide opportunities. By investing in smart city technologies and infrastructure, African cities can attract new businesses and create a more competitive business environment. This can contribute to economic growth and the creation of new job opportunities for citizens.
Conclusion
Smart cities are critical for Africa's future. With smart city technology and infrastructure, African cities can make their cities more livable, sustainable, and efficient. Smart cities and their importance may only be fully appreciated when Africa fully embraces the trend. It might be the only way for Africans to see the continent as home while maintaining global standards of growth and existence.